COA LINK
PAGES
The 'Irregulars' are on the street looking for
more site work.
We welcome feedback.
Please e-mail us.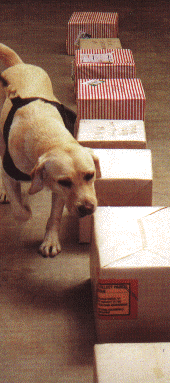 DETECTOR DOGS HELP CUSTOMS OFFICERS
FIGHT THE WAR ON DRUGS
Australian Customs Officers are world leaders in the use of drug detector dogs to assist drug interdiction at the border. Customs has used drug detector dogs for many years. However, since 1993 Australian Customs Officers have been involved in the development of a breeding program in conjunction with the Royal Guide Dogs Association and the University of Melbourne. The results of that program are now coming on stream and Customs anticipates improved detection rates as a result.
---
This page is presently under construction. When completed, it will provide further insight into the variety of duties undertaken by Customs Officers in Australia.